Several types of thermal fogging machine
Date:2021-04-21 14:22:02 Click:
Fogging machine has a variety of types, mainly divided into: trigger fogging machine, pulse fogging machine, agricultural fogging machine, trees dedicated fogging machine, vaccination special fogging machine and so on. Fogging machine is the use of space rocket engine pulse jet principles of design and manufacture of new pesticide, fertilizer, insecticide sterilization machines. The whole machine without a rotating parts, no mechanical wear under any circumstances, durable. The machine can be made smoke-like medicines and fertilizers, has excellent penetration and diffuse, good adhesion, resistance to rain erosion strong, easy to operate, significantly reduce drug consumption, high efficiency, brake insect sterilization well, conducive to environmental protection and other prominent features. Height and breadth of its control can not be achieved any equipment.
Thermal fogging machine has many advantages, high power, heavy smoke, less consumption of drugs, efficient and safe, lightweight body, novel appearance, convenient operation. Widely used in agriculture, forestry, animal husbandry, urban sanitation, a large area of disease prevention and public spaces brake insect sterilization.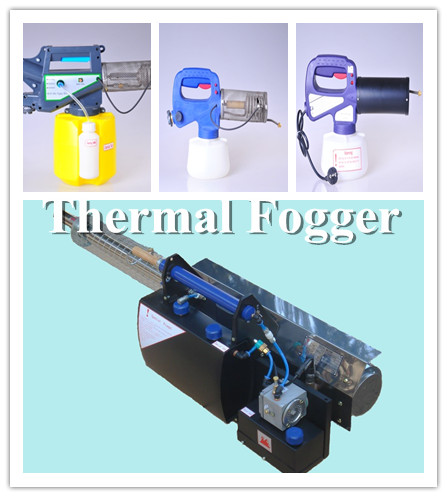 Pre :
Air Blast Sprayers for sale
Next :
Importance of bug fogger