Electric Disinfection Sprayer Machine
Date:2022-03-18 08:36:31 Click:
Driven by high speed rotating motor, this sprayer machine produces high speed airflow, which generates negative pressure in the nozzle place, and suck out the liquid medicine. The liquid medicine begins the atomized spraying, propelled by the high speed airflow.
With a wide application, the sprayer can be used for sanitation and epidemic prevention, disinfection, mosquito killing in hospitals, restaurants, hotels and other public places, also suitable for epidemic prevention in chicken farms, sheep farms, cattle farms and piggery etc.
The product has passed the CE certification, mainly exported to France, Germany, Italy, India, Indonesia, Russia, America, Mexico and Australian etc.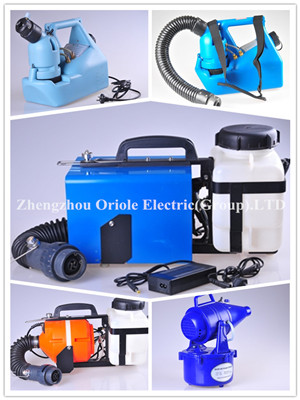 Pre :
ULV Cold Fogger 2022 Best Price
Next :
ORIOLE Sterilizing ULV Foggers and Misters