mini fogging machine for preventing dengue fever
Date:2015-12-04 10:44:42 Click:
Feature
Anti-noise, light weight, mobility, maintenance cost

Mini Fogging Machine
The mini fogging machine is the best internal aerosol fog and spraying generation devise in which flame projecting is possible. It can dispense a sterilizing for which can be used to fumigate all kinds of harmful insexts such as flies, mosquitoes, cockroaches in areas such as warehouses, parks, cattle barns, pighouses, roads, apartment complex, factories, campgrounds & etc.

Useing
- Fogger mosquito killing machine.
- Orchard, farmland and kailyard,greenhouse, poultry field, city park and courtyard,basement,air raid shelter, trash transfer station and storehouse, auto, train, steamship, hospital. Restaurant and hotel etc.

Easy to disassemble and simple to repair frame.
The fogger has been designed so it is easy to disassemble for repair or cleaning.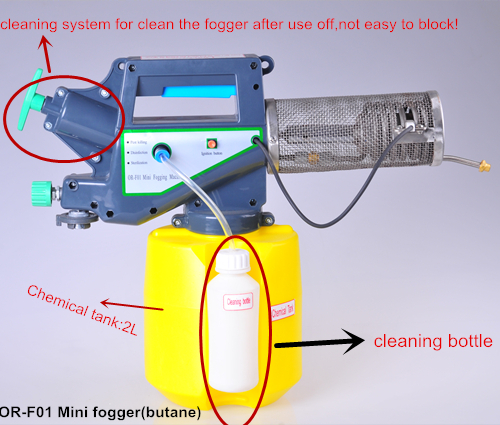 Pre :
News of OR-DP2(L)
Next :
The advantage of OR-F01 fog machine